Matt Hull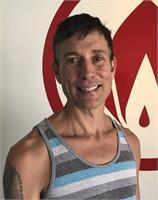 Matt Hull completed his Bikram Yoga Teacher Training in the Fall of 2017 in Acapulco, Mexico. He knew without a doubt that teaching Bikram Yoga was the path for him. The Bikram method of yoga changed his life and it is his heart's quest to share it with others.
Matt took his first class in April of 2016. His passion and love for yoga is purely and wholeheartedly apparent by his steadfast daily practice and unwavering determination.
Matt Hull instructs the following:
Classic 90 minute 26 postures and 2 breathing practiced in a room heated to 105 degrees with 40% humidity. Perfect for every BODY. From beginners to experienced. Old to young.




60-minute class was designed from the same postures as the 90 minute class. The class will move at the same pace but will have only one set of some postures. This class is great for those short on time or just need to get an extra class in for the week.