Sheridan Horner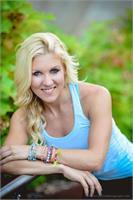 In September of 2013 I took my very first yoga class. Immediately after class I cried the rest of the day in happiness for I knew that this is what I was called to do for the rest of my life! I played college soccer for four years at Oklahoma City University where I received a Bachelors of Business Administration with an emphasis on Marketing. I was tired of running & being forced to workout my whole life; I longed for something more that I enjoyed. Yoga has transformed my whole life -- eating habits, physical fitness, skin, mental stillness, & everyday activities simply feel better. Yoga is a lifelong practice that never reaches perfection & at the same time is welcoming for everyone in all walks of life.

RYT 200 hour teacher training through YogaWorks.
Sheridan Horner is currently not instructing any classes.