Tina Hilbert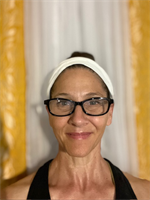 Tina Hilbert E-RYT 500 began practicing yoga in 1998. She attended yoga classes to improve her flexibility and relieve chronic low back, neck and shoulder pain. During the first class, she could tell the yoga practice was going to help her body relax and release tension. It put her mind at ease. In that moment, she knew that teaching yoga was the path for her. Tina has continued to pursue her dream of teaching yoga by attending yoga teacher training programs and workshops. Her passion for teaching and practicing yoga has only deepened over the years. One of her greatest joys is to witness student's lives become more enriched with the practice of yoga.
Tina went to Bikram's Yoga Teacher Training in the fall of 2000 in Los Angeles, CA. She also completed yoga teacher trainings at: Yoga Institute for Yoga Teachers (B.K.S. Iyengar Method) RYT 500 in Nashville, TN., 100 hours of B.K.S. Iyengar workshops with Senior/Junior Certified Iyengar Teachers., Kashi Ashram RYT 200 in Atlanta, GA., and White Lotus Thai Yoga Training with Saul David Raye in Santa Barbara, CA. Attended ONEFIRE Hot Yoga Conference (2017) in Bethesda, MD. Locally, she completed a Kundalini Yoga Teacher Training Level 1 - RYT 200 at 3rd Street Yoga and audited RYT 200 Yoga Teaching Training program at Spirit House Yoga.
Tina Hilbert instructs the following:
In this class the teacher is on the mat practicing side by side with the students.




60-minute class was designed from the same postures as the 90 minute class. The class will move at the same pace but will have only one set of some postures. This class is great for those short on time or just need to get an extra class in for the week.




Teacher practices with you.




Classic 90 minute 26 postures and 2 breathing practiced in a room heated to 105 degrees with 40% humidity. Perfect for every BODY. From beginners to experienced. Old to young.